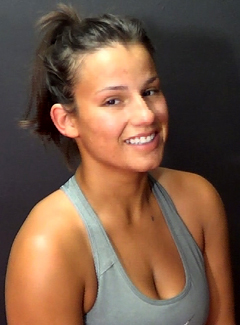 Post Fight Interview with Mikaela
"She's strong, but obviously it was kind of a slaughter!"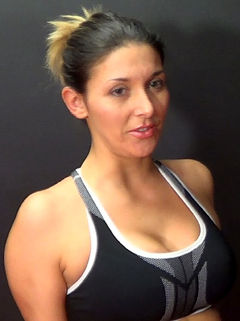 Post Fight Interview with Vanessa Vilano
"I need to train more, definitely, and lift heavier weights..."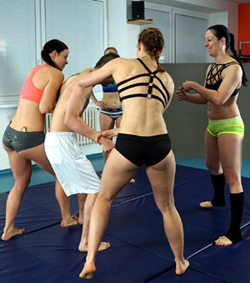 Scissors Circle at Alpha Catz in the Czech Republic
Four guys braved our Scissors Circle with 4 Czech girls from Alpha Catz. Alkaia who's known for her incredible arm strength wanted to compete to show off her powerful legs. Artemis is known throughout Europe for her scissorholds, as is Siberia. The girl who proves to be the most dangerous is Lara who at 5'7", 139 lbs has one of the most fearsome scissors we've seen. In Part I one of the guys from their club reluctantly enters the circle but doesn't last long in his first effort. Most of the video is of a guy who's a friend of a competitive club and he's determined not to tapout, very determined! Unfortunately for him, Lara doesn't like his attitude; actually none of the girls do! May 2018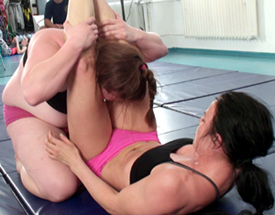 Lara uses her devastating headscissors relentlessly on powerlifter's poor neck!
Domitia is 5'7", 191 pounds and is a powerlifter. She's a very powerful girl but Lara who's the same height and weighs 52 pounds less is also extremely powerful and a very skilled wrestler. She keeps her big opponent tightly gripped and under control with bodyscissors, often combined with rear-naked-chokes and uses her devastating headscissors without mercy. Domitia also catches Lara in some powerful holds and and isn't the only one who taps out. May 2018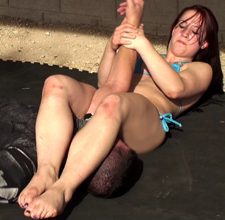 MMA Guy is humbled by Cheyenne in an unplanned match at a farm.
This guy truly believes that a girl cannot make him tapout. He's a big, strong guy who's seriously trying not to submit when he gets caught by Cheyenne but he's shocked by her legs and cannot withstand any of her headscissors; even her bodyscissors hurt him. He certainly thinks there's no way Cheyenne can make him tap to an armbar but he's wrong! A lot of these MMA guys tapout to girls like Cheyenne, especially by scissorholds to the neck. May 2018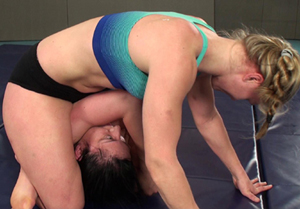 Alkaia's brutal power overwhelms another amazon!
Both Alkaia and Siberia weight 155 pounds but Siberia's 3 inches taller at 5'8" - she's always been known for her feared scissors and is generally considered a powerful girl who knows how to wrestle. However, on this day Alkaia overpowers her strong opponent using her worldclass arms to great advantage. Recently she's started using her legs a lot more in her fights and is becoming a formidable and skilled opponent! Members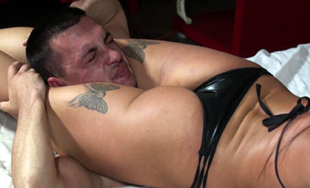 3 Hungarian girls brutalize a guy on the bed
An experienced wrestler with very strong legs and two other girls, also very strong, brutalize a guy on the bed. The other girls, a Gypsy girl and a beautiful dancer don't need lessons on how to fight and inflict punishment. The Gypsy delivers many blows including with a crop, and when she's not on the bed she stands by the bed making sure their victim doesn't escape. Meanwhile, the wrestler and the dancer inflict severe punishment including punches, kicks (even to the balls!) and lots of of brutal scissors! Members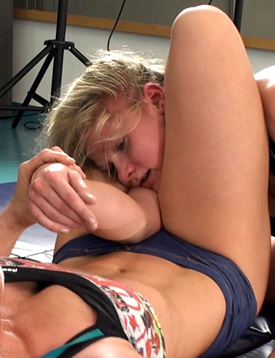 A battle between Lara's legs and Alkaia's arms
Lara (5'7" - 139 lbs) and Alkaia (5'5" - 155 lbs) are two powerful girls and they are both very competitive and both girls are determined to win. Lara's advantages are her incredibly dangerous legs and she has more fighting experience. Alkaia's biggest advantages are her phenomenal upper body strength and she's very hard to submit. You will see why Lara's legs and Alkaia's arms are so feared - the submissions are quite brutal! Members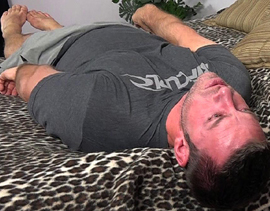 Mikaela's thighs almost kill Chase! Very scary!
This is the scariest video we've ever filmed. Normally we have a medical guy watching our matches but this video was done impromtu and is for MyLegRule. Mikaela's lying on the bed and squeezing inanimate objects but then she decides she wants to squeeze Chase. He's knocked-out very quickly but Mikaela and our cameraman don't realize it because it happens quickly. When Mikaela finally releases Chase he thrashes on the bed so violently that it scared all of us, well... except Mikaela, she wants to scissor him again! Chase is in no shape to withstand Mikaela's thighs and he's so groggy that he has to rest. NOTE: Chase hasn't seen this video and we really don't want him to see it - it was extremely dangerous what happened to him that day! Members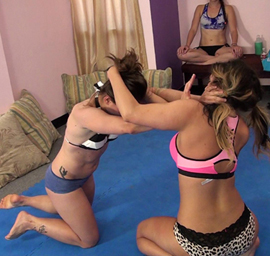 Alessia hates being helpless against her disrespected opponent like in the top photo!
Alessia's very competitive and is always ready to fight whereas Vanessa's outgoing and friendly, even with her opponents. This did not impress Alessia and she doesn't seem to have much respect for her opponent but Vanessa's a lot feistier than Alessia expects! Members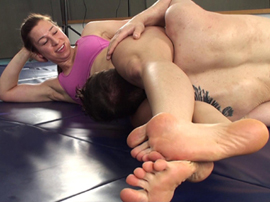 Artemis makes us a believer that her reputation for having powerful legs and brutal scissors is deserved!
Artemis of Alpha Catz in the Czech Republic caught our eye because of her beauty and wrestling ability, and the fact that she's known for her dangerous scissorholds, a hold that's won her many matches. We convinced Andel to participate in this scissors video for MyLegsRule in which you will see a very fit and powerful Artemis overwhelm her male victim! Members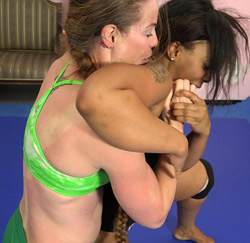 Eugenie and Lola may appear friendly but they're both very aggressive in this battle of amazons!
Eugenie's very impressive for somebody completely new to wrestling and she could become worldclass. Lola's had a little more experience but not wrestling girls and she's formidable because she's very powerful and hates to lose! This is a very hard fought fight between two powerful girls, both possessing super strong arms and legs. Members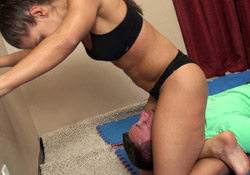 Skylar Rene's incredibly sexy in this video, and powerful and dominating....
This is Part II - it looked like the match was over in Part I but Skylar decides to continue beating-up Chase because she's so aggravated! She's normally really nice but you don't want to anger her which Chase has a habit of doing. He may like irritating some girls because they fight back harder but doing this to Skylar Rene isn't very bright because she's so powerful. At one point you can hear Chase say "I'm done" but Skylar just kept dominating and punishing him; some of her headscissors were very brutal and at times it didn't matter how many times Chase tapped, she still wouldn't let him go! Members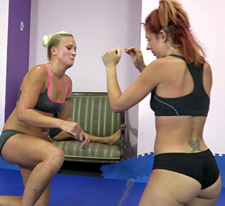 Pharra doesn't back down from anyone, even JC Simpson!
We couldn't believe Pharra agreed to this match despite the fact that JC Simpson is much bigger and far more experienced. Even more amazing is how aggressive Pharra is, although it just gets her in trouble as JC puts the squeeze on her, clearly dominating this match but she had to fight! Members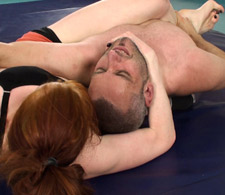 Sava is no match for Cobra as she shows surprising strength and completely outwrestles him!
Cobra of Alpha Catz surprises everyone, including her opponent, with how much she's improved. She's obviously a quick-learner and no doubt very competitive but perhaps most impressive are the multiple of ways she gets her male foe to submit - he could hardly do anything in this fight because Cobra kept him completely under her control! Members


No wonder Kaitlyn's terrified of Mikaela's thighs!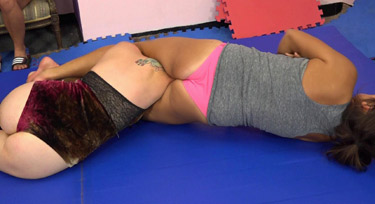 A couple of seconds from the start of their match and Kaitlyn's quickly screaming-out her submission to Mikaela's bodyscissors. She certainly didn't want to get caught in another scissors after feeling Mikaela's thighs around her midsection; unfortunately for her, she does quite a number of times. Lucky for her Mikaela showed some mercy, which doesn't often happen! Members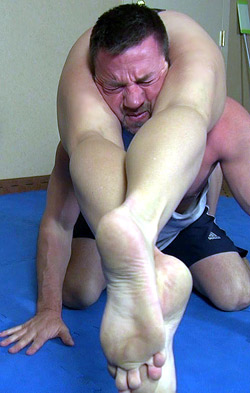 Eugenie's powerful thighs have Chase feeling like his skull is going to crack!
Eugenie's learning quickly, despite being new to wrestling (but not fighting) and she already uses her extreme power to hurt opponents. It doesn't help Chase that Mikaela's watching because she gives Eugenie some wrestling advice on how to beat him (no love lost between Chase and Mikaela).

Chase complains a number of times about Eugenie's hard punches because they hurt so much... but then, so do her kicks, and her thighs can obviously deliver a knockout blow if she wanted to. Members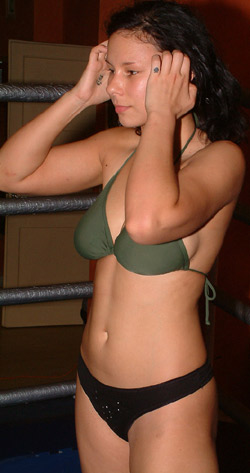 ORSI

We're about to start the process of substantially updating our wrestler pages; from A-Z. Initially, we'll only include girls who've done matches for FEMWIN, including those who've been filmed by other producers.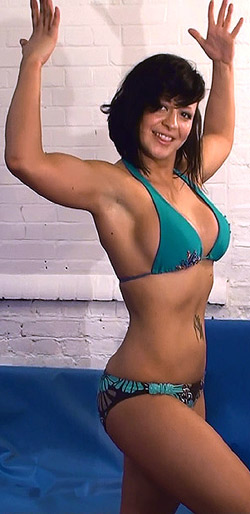 Cleopatra

Expect more information, photos and links to their videos - if they're available.